THE CULTURE AND HISTORY OF
Kapālama Kai
The plain of Kaiwi'ula is located in the ahupua'a of Kapālama on O'ahu.
Although there is no known documentation explaining the source of the name Kaiwi'ula, which can be translated as "the red bone," it is believed to commemorate a great battle that occurred here and on the connecting plain of Niuhelewai.
The famous battle between Kahahawai, a chiefly warrior under Kahekili (ali'i nui of Maui), and Kahahana (ali'i nui of O'ahu) ended in a slaughter of the O'ahu people. It was said that so many were killed, the corpses completely dammed Niuhelewai stream. "Waipi'o kīmōpō" (Waipi'o of the secret rebellion) is an epithet for the people of Waipi'o, O'ahu who rebelled against the Maui chiefs and died at Niuhelewai.
Kamehameha 'Ekahi would also make a lasting mark on the lands of Kaiwi'ula and Niuhelewai. The history of his prudent and thoughtful leadership in these places reminds us of the connection between our schools, its namesake, and the 'āina on which it was originally founded. Indeed, it was here that the Kamehameha School for Boys first opened in 1887, and it is here that the Bernice Pauahi Bishop Museum remains to this day.
After his victory in the battle of Nu'uanu, Kamehameha moved quickly to restore the agricultural capacity of the lands that had been damaged as a result of the war. Areas within the ahupua'a of Kapālama and Nu'uanu were chosen as his personal farm lands and were famed for their size, being likened to plantations. Kamehameha also initiated several large-scale planting efforts to not only provide food for his army but to help return abundance and prosperity to all of O'ahu. One such effort was an island-wide tour by which his warriors would visit each community and provide the manpower needed to restore its food production.
Reverend Stephen L. Desha writes in Kamehameha and His Warrior Kekūhaupi'o:
Before Kamehameha began his island circuit journey to instill peace and stability, he commenced the planting of kalo at Kapālama and Niuhelewai. He planted many huli kalo (kalo tops) in the kalo patches since they had been heedlessly pulled up during the time of war. In this he was greatly assisted by his warriors from Hawai'i.

Not only did he and his warriors participate, but Kamehameha encouraged his ali'i from Hawai'i to enter into this work of farming on the land over which they had triumphed.

(Translation by F. Frazier)
It was the warrior Kekūhaupi'o who is attributed to giving Kamehameha the following advice while teaching him:
'O ke ali'i i lilo i ka le'ale'a a mālama 'ole i ke kanaka me ke kapu akua, 'a'ole ia he ali'i e kū ai i ka moku.

The chief who is taken with pleasure-seeking and cares not for the welfare of the people or the observation of the kapu of the gods is not a chief who will become a ruler.
This proverb has since become a famous 'ōlelo no'eau that is offered to young people, imparting the knowledge that success comes not by seeking idle pleasure but by living up to one's beliefs and caring for the welfare of others. This lesson undoubtedly shaped Kamehameha's conception of the responsibilities of a good ali'i and was reflected in his commitment to the restoration of Niuhelewai and Kaiwi'ula.
Niuhelewai – Fish Ponds at Honolulu, O'ahu published by John Murray, sketched by Robert Dampier, 1825, 1836.
Mo'okuauhau
Kamehameha Schools 'āina within the Kapālama ahupua'a (land division) were gifted by Moses Kekūaiwa. Encompassing over 789 acres, these lands include Kamehameha Schools' Kapālama campus in the ma uka region and runs ma kai to Nimitz Highway where much of our commercial properties are located.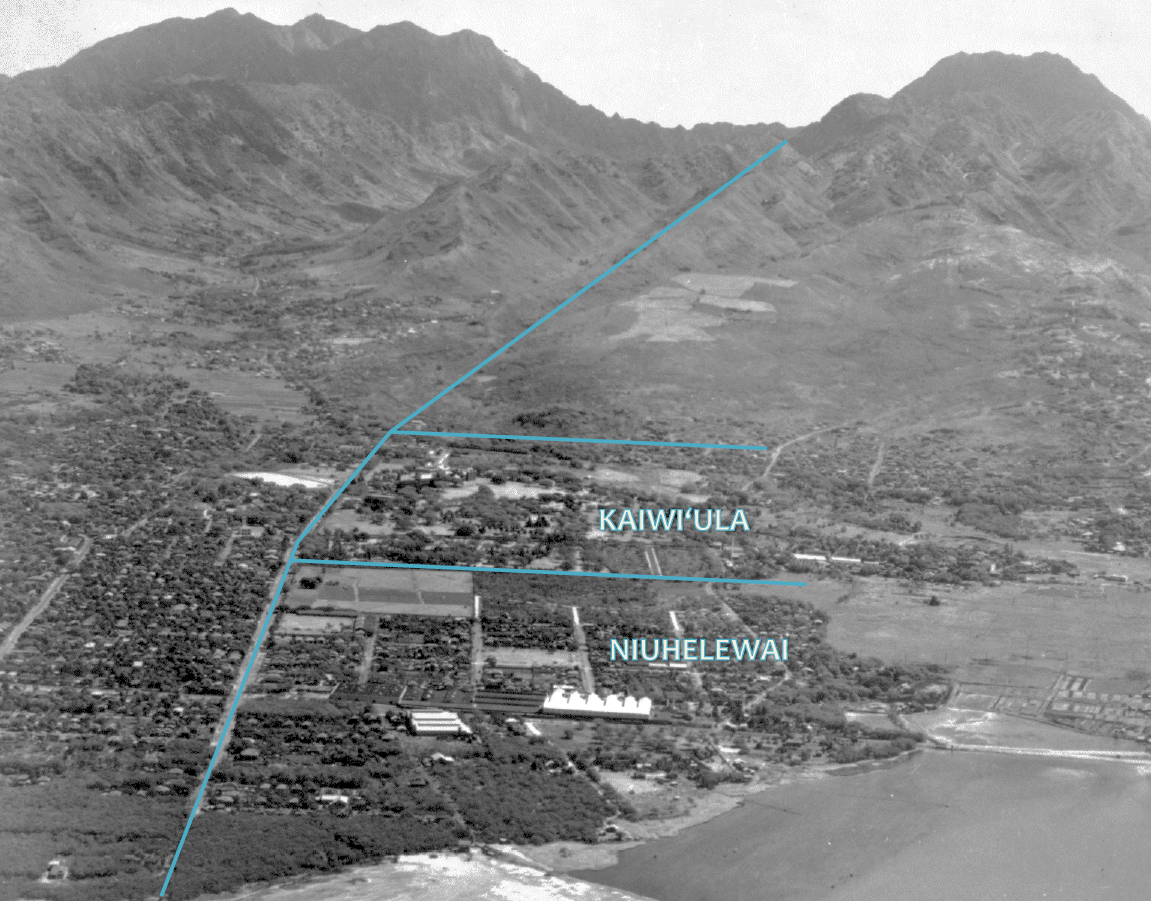 Photo Credit: Bishop Museum
22 loko iʻa (fishponds) were recorded in Niuhelewai and Kapālama in the mid-nineteenth century. Kamehameha was responsible for many of these loko iʻa. Photo courtesy of the Hawaiʻi State Archives.